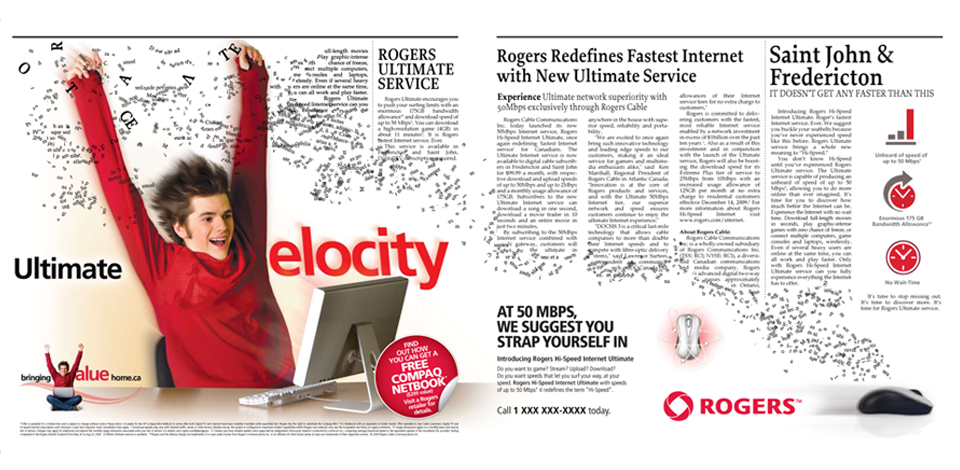 CHALLENGE
Rogers Communications Inc., a leading national provider of Wireless, Digital Cable TV, High Speed Internet and Home Phone services, needed to increase awareness of Rogers' services in New Brunswick and Newfoundland. They were having difficulty developing messages that resonated in their Atlantic footprint.
STRATEGY
Craft messages for Rogers in both official languages and more importantly, tailor the French at a regional level, personalizing the message with the goal of portraying Rogers as a friendly, familiar and local service provider. HCA conducted market specific research and developed a unique selling focus and approach for the region communicating "value".
IDEA
"Bringing value home" was created, enabling Rogers to deliver hard-driving retail offers through genuine, real Atlantic Canadian characters and places. HCA developed unique ad campaigns including TV, radio, online advertising, outdoor advertising, new media advertising (washroom ads, cinema ads, ads projected on outdoor buildings) and a series of innovative, attention-grabbing direct mail pieces.
RESULTS
On top of achieving all sales goals outlined by Rogers, HCA was also recognized for producing Rogers most successful direct mail campaign ever, country-wide, generating results 300% greater than average.